Thank you Cog 'o' Two
4 December, 2019
Many folk are involved behind the scenes in making the UK Games Expo a success. A week ago we went and visited Cog 'o' Two in Manchester who are the unsung heroes who produce our beautiful UKGE Awards Trophies. Last year they also created some fabulous acrylic display cabinets for exhibitors to be able to show off their products at the Expo.
So who are Cog 'o' Two?
Jon and Michaela are a family team who purchased a laser cutting machine for hobby use and then discovered that they were not the only ones after high quality tokens and gaming pieces! From small beginnings they now offer casting, moulding, vacuum forming and prop building services. Working in a variety of media from acrylic to MDF to metal, they now have a variety of machines to suit the needs of the discerning gamer!
Magic in the making.
We got to see their workshops and some of these incredible machines in action. As someone who watched 1970s Dr. Who and Star Trek: The Original Series as a kid, this still looks a LOT like magic! 3D printing, laser cutting and the precision layer painting look like they might be straight out of one of these shows! The products are fab and an asset to any gaming table.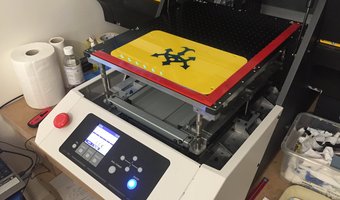 Unique items: Shop prices.
As well as offering these services you can request unique designs which they will work through with you from an initial idea to the finished product. This means you can have bespoke game tokens and pieces at shop prices!
Santa's little...helper?
Have a look at the Cog 'o' Two Facebook page as their Elf on the Shelf is currently offering a naughty Christmas elf discount of 30% on a variety of pieces over the next month. We followed the elf yesterday and now have some splendid StarWars inspired acrylic snowflakes en route to several of us!
Thank you!
We'd like to say a massive thank you to Jon and Michaela for their continuing support and hard work for the UK Games Expo and wish them every success as they expand their offering!
Don't forget to check out their facebook page and website. What unique things will you grab for you and yours?