Tickets will be on sale after Easter 2021.
Hungry? Thirsty?
There are multiple options for getting you fed and watered all around UK Games Expo.
The UK Games Expo Food Festival at Chow Street
During UK Games Expo the Hilton Carpark outside the main lounge is transformed into the Chow Street Food Festival where all sorts of exotic offerings can be found.
We are still confirming options for 2021 but these are the specialist food vendors who have been part of Chow Street in previous years.
Friday:
Saturday:
Sunday:
Jabberwocky Streetfood
NOEA Caterer of the Year 2015 Home of award winning toasties, cheesy movie quotes and some of the finest street food knowledge around.
Beckys Bhajis
Delicious bhajis, and other Indian snacks, all freshly prepared and cooked to order which gives them a wonderfully light and crispy texture. 100% veggie. Offer vegan options.
Bournville Waffle
Traditional Belgian waffles with some not so traditional toppings. We offer a dessert that is unlike any other!
Souvaki
Greek street food including kebabs, wraps and fries.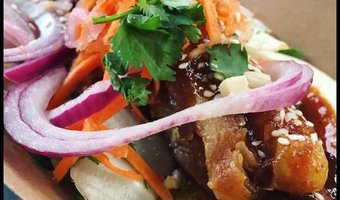 Canoodle
Pan Asian Street Food. Vietnamese, Cambodian, Malaysian and Sri Lankan style noodle and stir fry dishes and curry's Mission: To bring the Vietnamese, Thai and Cambodian Street Food to the masses!!
Habaneros Mexican Cuisine
Mexican cuisine using chilli's that have been imported from Mexico, but then combined with local produce to deliver our great flavours.We have gluten free, and vegan options.
The Meat Shack
The Meat Shack's Dripping Filthy burgers are some of the best in the Midlands. All our food is Gluten free as an option without the buns, GF customers can bring along their own buns or we serve all our burgers naked (bunless) style.
The NEC and Resort World
There are food outlets in halls 1 to 3 of the NEC as well as in the Piazza. Resort World close to the Viking Village also houses a number of restaurants. More options are available at the railway station and in the airport.