UK Games Expo is a great event to attend as a family and to bring your children to. There are tons of things to do together. Here are some of the highlights:
Let's Play Zone
Let's Play Zone focuses on games ideal for the family to play together.
Children's Zone
Children's Zone focuses on games perfect for younger children.
Children's Roleplaying Zone
Head off on an adventure. Our Children's Roleplaying Zone runs games for ages 5 to 12.
Calling all children: Design the children's ticket and win!
Calling all young designers and gamers!
We need your help!
Family Friendly exhibitors
Visit the Trade Halls. Dozens of exhbitors carry family games and most have tables for you to try their games.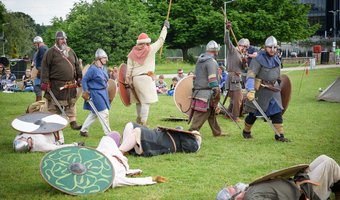 The Living History Village
There are Vikings, Romans and more outside. Watch out! Near the Lakeside is our Living History Village.
Live Entertainment
Take in a show. There are several Live Entertainment Shows ideal for families.
X marks the spot
Go on a Treasure Hunt. Children can hunt for hidden clues at Expo, and win some great prizes!
Cosplay
Costumed groups portray your favourite TV and Movie characters.
Band of Brothers - Charity Game
Duncan Wasdell brings Band of Brothers to this years expo in aid of the National Kidney Federation.