The Games Shop Aldershot
29 November, 2020
We are featuring Friendly Local Games Shops on our Twitch stream each Wednesday as well as talking to publishers, designers, podcasters and more. This is surprisingly sizeable FLGS The Game Shop Aldershot:
"The Game Shop has been a fixture of Aldershot and the industry for nearly 40 years.
Now more than ever we have doubled down on our ethos; to fight loneliness and sell games in that order!
Our Communities are the most important part of the shop from our 3 Wargaming clubs to the fantastic support we have seen grow for our Dungeons and Dragons Adventurers League, alongside the great communities we have grown for all sorts of card games. .
The shop has 3 floors and 5 different rooms for gaming, encompassing over 2000sq ft of play space. The Games Shop Aldershot is currently working to safely open up spaces for people to come and play games.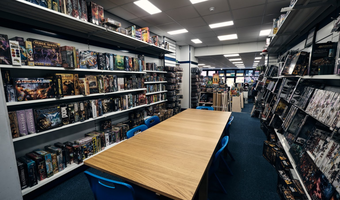 During the lockdown they have been working hard to keep people connected with mail order, deliveries, videos and Twitch streams.
https://www.twitch.tv/thegamesshopaldershot
The Games Shop Aldershot can be reached at:
Why not give us a shout on our contacts to get advice on games to buy or play?
Or come and see us at: 6 Wellington St Aldershot, Hampshire. GY11 1DZ"