Exercise your way to conventions!
12 May, 2021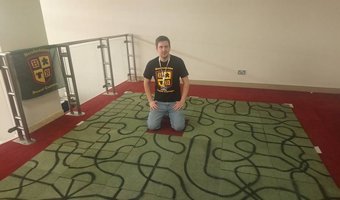 Herefordshire Board Gamers are a gaming and fundraising community.
They have re-invented themselves over the last 12 months; going online, diversifying into video games, quizzes and Role Playing Games with over 30 RPG systems played during that time.
They have continued their fundraising this time by exercising their way (from home) to the conventions they would normally attend around the country. This community exercise challenge team have exercised 1400 km already, working as a team to motivate each other to do more exercise and raise money for charity. Any one is welcome to join.
They managed to walk, run, cycle or hoola hoop their way to UK Games Expo half way through March! So far they have raised £2,600 for Herefordshire Mind, bringing their 7-year total to over £10,000.
The club also launched a free community lending library to provide even more play and social opportunities.
The library has grown from 30 titles to 240 in the last 12 months as well.
Their fund-raising year ends with a mega, weekend charity event on 15th and 16th May which is at the end of Mental Health Awareness Week.
This will be held online on their Discord channel for voice/text chat, with a range of games sessions for you to join in for free using a mix of Board Game Arena and Tabletopia, plus Jackbox and RPGs.
There will also be plenty of opportunities to arrange your own sessions, for example on paid for software such as Tabletop Simulator or other digital board game implementations.
They also have a raffle, running from 1st May to 31st May where you can pick your own prizes. The raffle now has £2500! in prizes!
Herefordshire Board Gamers have lots of guides and articles on their website and a friendly, active community on Discord and Facebook.
They are planning to keep running online sessions in the future as well as in-person meet ups, as these are more accessible in many ways, as people who may not be able to get to their in person meet ups e.g due to childcare or not living locally (or even in the UK) have been able to join in online.
Their website has lots of useful advice guides as well, including this mental health first aid guide for gaming communities.
So check out their charity event this weekend here and don't forget to enter the raffle here.